Violetta (337), a curious and cheeky fairy who unfortunately can only cast the wrong spell, gets lost in the human world. To find her way back to the fairy world, she teams up with the human girl Maxie (12) and discovers her true destiny.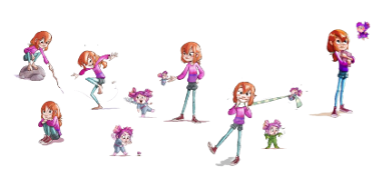 Violetta is a young fairy in training to become a tooth fairy. She has a big mouth and a will of her own. However, this only belies the fact that she is insecure because she can't do magic very well. Instead of conjuring up the most amazing toys, as a real tooth fairy must be able to do, she conjures up…. Violets. So far, she's been able to sneak through quite well with her cheeky mouth, but now she's about to take her Tooth Fairy exam. Only those who pass the test are allowed to go to the human world to collect the milk teeth from the children and to conjure up a gift in return. But Violetta fails the exam with a bang. But Violetta wouldn't be Violetta if she let that stop her and smuggles herself into the human world. But how is that supposed to go well without being able to do real magic and how does she even get back?
Family Entertainment, CGI film feature
Families, core target 5-11-year-olds
Silja Clemens, basierend auf einer Idee von Maite Woköck
English screenplay revision
Jella Haase (Violetta), Lisa-Maria Koroll (Maxie), Alex Avenell (Gwen), Julian Mau (Yolando), John Chadwick (Sami), Lukian Rusari (Tarek), u.v.a.
Maite Woköck, Ilona Schultz, Sebastian Runschke, Jean-Marie Musique, Christine Parisse, Mark Mertens
SERU Animation GmbH & Co. KG, Ella Filmproduktion GmbH, Fabrique d'Images (Luxemburg)
M.F.G. Filmförderung, Filmförderung Hamburg Schleswig-Holstein, nordmedia, Filmfund Luxembourg, Creative Europe MEDIA
Festivals / Preise / Nominierungen
Filmfest Hamburg 2022