Twelve-year-old Maxie can't believe her eyes when the curious and cheeky fairy Violetta appears in her room. With the help of her magic, Maxie sees her big dream come true: returning to her old home in the countryside, which she misses so much in the noisy grey city. Violetta agrees − even though she can't yet conjure anything other than violets.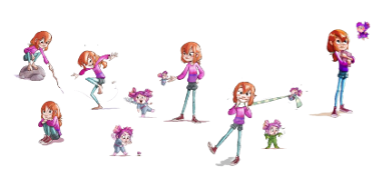 The two become friends, but it soon turns out that Violetta has stolen another fairy's mission to smuggle herself into the human world. And that she is running out of time if she is ever to return home. An exciting race against time and a capitalist hotel manager ensues. Together they have to save a green oasis in the big city and find a secret portal to the fairy world. In so doing, Violetta and Maxie learn that anything is possible with the right friends.
Family Entertainment, CGI film feature
Families, core target 5-11-year-olds
Silja Clemens, basierend auf einer Idee von Maite Woköck
English screenplay revision
Jella Haase (Violetta), Lisa-Maria Koroll (Maxie), Alex Avenell (Gwen), Julian Mau (Yolando), John Chadwick (Sami), Lukian Rusari (Tarek), u.v.a.
Maite Woköck, Ilona Schultz, Sebastian Runschke, Jean-Marie Musique, Christine Parisse, Mark Mertens
SERU Animation GmbH & Co. KG, Ella Filmproduktion GmbH, Fabrique d'Images (Luxemburg)
M.F.G. Filmförderung, Filmförderung Hamburg Schleswig-Holstein, nordmedia, Filmfund Luxembourg, Creative Europe MEDIA
Festivals / Preise / Nominierungen Filmfest Hamburg 2022